New Workout: Flaunt Your Total Body
Posted on February 28, 2014 at 12:01 am
HAPPY FIT FRIDAY! It's the last Friday in February so that means it's our last "Flaunt Your ________" workout. So far we've done abs, booty, arms…so today is Flaunt Your Total Body! I really hope that throughout this month that y'all have remembered to love your body right where it's at! You are strong and you are beautiful (:
Next month I have something fun planned, too…we're gonna make our goals happen and have bikini ready bodies for Spring! Yay.
Okay, less talking & more working out…let's get to it!
Equipment you'll need for this workout:
chair
timer
dumbbell (just one…I suggest 8-10 pounds)
medicine ball (or something about the same size as one)
Here is your workout breakdown/printable:
And of course, here is your video explaining how to to do all of these moves:
Happy sweating, ladies (: 
If you missed anything last week, let me catch you up:
Monday I talked about working out because you love your body, not because you hate it.
Tuesday I introduced the new Fitness Glossary on the site!
The blog award that I'm up for is still up for grabs! Voting ends Sunday! Spread the word and have your friends and family vote for Glisten Fit (you can vote more than once). Click the turquoise circle below and it will take you to the voting page. Thanks…y'all are THE BEST!
The more that you share Glisten with your friends, the more time I'm gonna make to put together workouts and videos (: I'm so thankful to be able to do what I love! THANK YOU!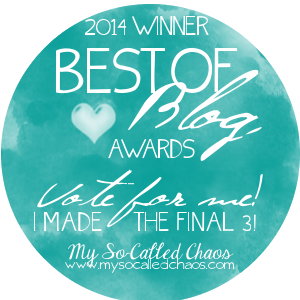 Happy weekend!

xo, Jessica

Tags: abs, fitness, HIIT, weight loss, workout, workout video


Categorized in: Be Fit, Fit Friday, Full Body, HIIT, Workouts
---